Thanks so much for your phone call last week inquiring about my sauna. I just love it. I try to use it every day but average 5 days a week most weeks. When you asked if it helped my aches and pains I was a bit puzzled because I never have any. After hanging up with you I started to think back to before I had the sauna and remembered I had a lot of them but they are only a memory now. My skin has never looked better and I have more energy then ever. I am so pleased that I went with infrared thermal system. Not only is it a beautiful piece of furniture, it is maintenance free. We did rearrange the placement of the unit and made it caddy corner in our room and it looks like it was made for the space.
Ruth P.
I want you to know what a wonderful investment my Cedrus Sauna has been and how much I have really appreciated all of the terrific help and personal care that I have received from the two of you at (Healthy Spaces)! My naturopath, who treats many cancer patients, encouraged me to start using a sauna as it has been shown to boost the immune system. Nothing has been as convenient and comfortable as using my own sauna at my own schedule, and with the stereo and light inside, I enjoy beautiful music while I read or relax. In addition to helping me overcome the cancer, whenever I start to come down with a cold, I sauna twice a day and I am over it in two days. Also what a difference in being able to breathe with a cold when I sauna! My purchase prompted my Naturopath to acquire her own sauna which she uses every day, and in addition, my son-in-law who is a chiropractor is planning to purchase one for his family and clients use. I recommend it to anyone who has any health issues or wishes to avoid any health issues! You have both gone far above what is considered great customer service and I thank you for it! Coming out to my home to assemble my sauna and also coming out to help me assemble my Aqua Pour water filter cheerfully and without charge are just a few examples of your wonderful service which I have greatly appreciated. You are always available to help me when I have questions and I highly recommend Healthy Spaces to all of my friends!
Linda Merrick
Portand, Oregon
We wanted to let you know how much we enjoy our sauna. We have had our sauna for a year now and have used it for relaxation, meditation and getting the deep cold winter chill out of our bones. By January and February the sauna's wonderful, deep penetrating heat is like breaths of summer, making winter seem mild. Work can be very stressful at times. One night I had a very tight knot between my shoulder blades. I thought relaxing in bed would help. By 12:30am it was so bad I couldn't rest. I got into the sauna and put my back close to the heater. After about 20 minutes of heat, stretching and rubbing, the knot relaxed. I thought I would have a stiff neck the next morning, but there was no soreness at all. Now I always stretch while in the sauna. I feel my cardio is stronger, my skin is softer and smoother, and my face has a younger, healthy glow. We conquered the nasty cold that has been going around everywhere. Bruce felt his first and got into the sauna a couple times a day over the weekend. He never developed the cold. I didn't feel mine until Monday morning when I got up and I didn't have time to sauna until I got home. I used the sauna morning and night for a few days and never felt bad enough to take any medication. I could feel the cold was close at hand, but it never came on. Other people were off work for 2-3 days. If the grandkids come over with a cough or cold, they get in the sauna and it shortens the duration of their illness. We have checked other saunas at shows and different stores. We have never found one to equal our Cedrus sauna we got from you. The quality and appearance is great and looks good in our living room.
Jan and Bruce Pitner
Portland, Oregon
Knowing I wanted one for my home, I researched infrared saunas until I was more confused at the end than at the beginning. There are cheap models on  Amazon, Wayfair, EBay, online middle-men holding themselves out as manufacturers, and other options. Then I discovered Diane Bays at Healthy Spaces, who carries the Clearlight® brand. Clearlight® had also done their research, looking for the best made and safest unit available upon which to put their corporate name.
I went with Diane Bays for three reasons. First, she is local and very accessible for training and advice, and could not be more accommodating. She is also a straight shooter who looks out for her customer's best interests rather than simply making a sale. Second, the specs on the Jacuzzi® are the best, including construction and guarantees. Safety is an issue for the poorly made units coming out of China, so that was a major concern of mine. With Clearlight® specs, I got the peace of mind I was looking for. There are cheaper brands out there for sure, but I would never bring one of those into my home. Third, I gained peace of mind knowing Jacuzzi had also done their research and chose Clearlight® as its top choice.
Sam Blair
Portland, Oregon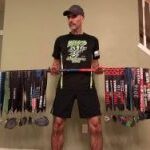 Every year myself and thousands of other obstacle course racers put our bodies and minds through some very rigorous training and races. Equal to the importance of training, is recovery, and this year I made it a bigger part of my overall program. I have added both sauna and PEMF to my recovery protocol and the results were incredibly beneficial. I ended up 7th in the US and 31st in the World (Spartan Race 50+ Age Group). In 2019 I hope to break the top 5 in the US and top 15 in the World and I know that Diane and Healthy Spaces will once again be a key to my success.
Ty Collins
Portland, Oregon
I read for years how incredible FIR saunas were and when we finally decided to treat ourselves and get one I was so thrilled to find Diane Bays and Healthy Spaces. She is so knowledgeable and personable and helped us decide which model would be the best fit for us. We have loved our Clearlight® sauna, we have nothing but wonderful things to say about it. It has been one of the best investments in ourselves and our health that we have ever made. It proved invaluable for me after surgery, it has helped us fight oncoming colds and viruses, and provides muscle recovery. My husband loves it for stress relief and uses it multiple times a week. There is zero hard-sell at Healthy Spaces. Diane's concern first and foremost is providing the best products possible to help everyone enjoy optimal health and that was the reason I purchased our sauna from her. 
Lisa Burt