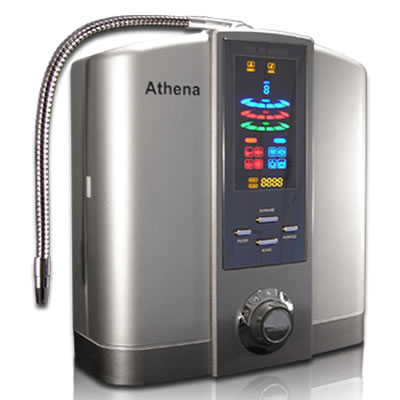 ATHENA WATER IONIZER
Our Premium Countertop Ionizer
The Athena is the top performing unit in independent US EPA certified lab testing. Click Here to view the lab test video. Investing in the Athena gives you the very best in return: top performance and features, ease of use, durability and styling. You also invest in the certainty of Emco Tech, the world's leading manufacturer of ionization technology. When it comes to performance, technology, durability and features, the Athena represents the absolute zenith in countertop ionization.
CALL TODAY AT 503-655-3565 FOR MORE INFORMATION.
Features
Dual Filtration for cleaner water – proprietary patent-pending UltraWater Filtration System
Top Performance for the healthiest water – the latest Mesh Electrode technology
Unparalleled durability – the patented DARC Cleaning System eliminates the scale buildup which deteriorates performance in all other ionizers
Unrivalled functionality. You never have to wait for a cleaning cycle – never even think about cleaning! The Athena gives you three installation options, counter top, direct pressure or undersink. And the Athena is has the most beautiful styling available!