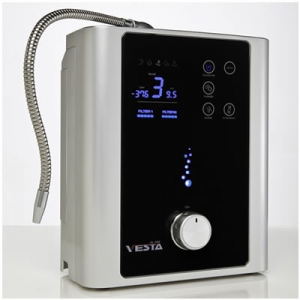 VESTA WATER IONIZER
The Vesta GL ionizer is unmatched in producing clean AND healthy water plus consistently high levels of diatomic hydrogen. We invite you to enjoy the advanced features and user-friendly technology and are very confident that the Vesta GL will provide you with years of top quality performance.
CALL TODAY AT 503-655-3565 FOR MORE INFORMATION.
The Vesta offers you:
The Cleanest Water. The (USA made) UltraWater dual filtration system gives you peace of mind with a 99.9% reduction of almost all contaminants. This is the ONLY ionizer filter capable of treating potable water so it safe for you and family. Removed are the toughest contaminants like pharmaceuticals, heavy metals, chemicals, VOCs and more. We even offer a fluoride removal option. See our certified test results here. Plus the water tastes delicious!
AutoAdjust™ Optimizer. Automatically adjusts the ionizing power to give you the best performance for your particular water source. The result is a bigger change in pH, better ORP and more active production of diatomic hydrogen from the electrodes. You get optimal performance and benefit, no matter where you live or what your water quality is. Every time. Easy. Automatic. Only from AlkaViva and exclusive to the Vesta.
Smart Switch™. Next generation SMPS power supply provides the most stable and efficient power platform.
AutoClean. Fully automatic post use cleaning protects your investment – and unlike other ionizers brands you never have to wait for your alkaline water. Keeping the cell clean is critical for maintaining high performance over time.
9 Platinum Titanium Electrodes. Vesta delivers more power per square inch than larger, less sophisticated models that require large wattage. Think small. Think efficient.
Compact Size. Small footprint. Smaller than other 9 electrode ionizers.
Design. The elegant black and stainless-look design complement any modern kitchen decor. Experience the beauty and efficiency of a designed ionizer!
Ease of Use. Aesthetic touch screen sensors.